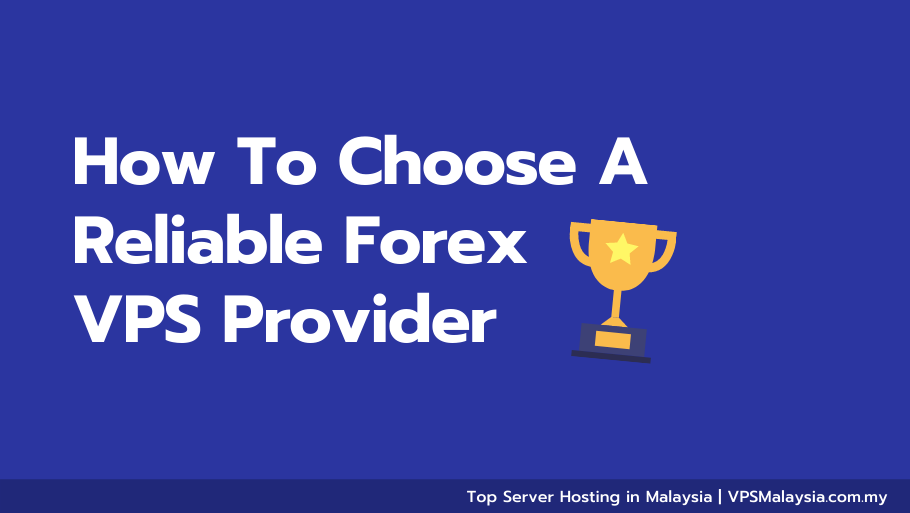 ---
Check out Best Forex VPS in Malaysia
---
WHAT IS FOREX VPS
In the past few years, virtualization has played a big role in the business and IT sectors, therefore, it is not a surprise that such advancement has also begun in FOREX trading. FOREX trading is an exchange that occurs online, and to earn as much as you desire, you must have a stable and fast connectivity that allows you to constantly monitor your FOREX trading. Given that you may not have a round-the-clock connectivity, or even if you had, you may not always be available to monitor the FOREX trend, a virtualized hosting suite has become necessary. In this article we will explain Forex VPS as well as how to choose a reliable forex vps provider.
Forex VPS, otherwise known as the Virtual Private Server is a hosting server that can be installed by a trader so that he can independently run his Expert Advisors (EA) from his home computer. Simply put, with the FOREX VPS, you don't have to be constantly logged on. Whether there is a power outage, unstable internet connection or any other challenge that could have interrupted trading, the VPS ensures your EAs automatically continues trading even without you logging on to your trade station.
Therefore, if you are a professional FOREX trader, with a need for consistent market access, you can overcome unforeseen interruptions by deploying your EAs on a dedicated server that runs constantly and independently from your own computer.
This is how a FOREX VPS works: ordinarily, a trader's computer is connected to the internet so that he is able to send trading orders to his broker's server. But, this requires the trader to remain online all the time and it is possible only if you choose a reliable forex vps provider. While it may be possible for a trader to remain online monitoring his trading orders, he does not have control over unseen interruptions such as system errors, or even power outage. With the VPS, EAs can be uploaded that automatically send trading orders to the broker's server 24/7, without any effort at all by the trader.
You must also understand that hosting the expert advisors on the VPS does not prevent you from monitoring trading orders when you are available.
BENEFITS OF USING FOREX VPS
You will agree that in FOREX trading strong connectivity to the trading platform is very important. For you to succeed, every second is vital. Therefore, the relevance of the VPS is quite obvious.
Firstly, the FOREX VPS ensures that your trading orders continue running if you go offline as a result of unseen circumstances. That way you don't lose money and your account remains safe until you return.
Secondly, it helps you to gain more control over your computer. Instead of being on your computer 24/7 managing trading orders, the EAs uploaded on the VPS can do that instead. With a FOREX VPS, you can automatically optimize your FOREX trade without much effort.
Finally, a virtual hosting server that is independently run is necessary for an environment that requires maximum uptime. If your computer requires occasional rebooting, or you have an epileptic power supply, you will benefit from a server with a maximum uptime, such as the VPS. In addition, most VPS make FOREX trading very easy by allowing swift EA installation and easy access from any browser.
VITAL FEATURES OF A FOREX VPS
Although several VPS comes with many attractive features and several promises, there are still some vital features to check out before you decide to choose a reliable forex vps provider. These features are essential for enhanced trading performance.
Here are some vital features to look out for before you settle on a FOREX VPS.
A highly optimized hardware: before you go out and get a VPS, you must ensure that the virtual machine has an optimized technology that supports high-end performance. Your FOREX VPS should feature a high speed and a guaranteed uptime. This way, you will be able to make faster moves that you were not able to make before. The VPS should also facilitate profit making while still keeping your trading account secured. Learn everything you need to know about high-performance server hardware here.
Easy access: you should be able to connect to your VPS effortlessly no matter where you are or what device you are using. This is what makes the use of a virtually hosted server worthwhile. While it does the work in your absence, you should be able to easily log on as soon as a favorable opportunity surfaces.
Trading platform compatibility: a good VPS should be compatible to many trading platforms, especially if the platform supports automation. It is also important to ensure that EAs can be easily installed onto the virtual machine. One FOREX VPS that is compatible with all brokers' platform is VPS Malaysia.
HOW TO CHOOSE A RELIABLE FOREX VPS PROVIDER
It can be a daunting task to choose a reliable forex vps provider if you do not know what exactly to consider. First, you must know the necessary criteria and then conduct a thorough research to ensure that your VPS provider offers a tech that is compatible to your device and will serve your needs.
Below are the tips to consider before you decide to choose a reliable forex vps provider.
Price
This is clearly a good place to start. The price of a FOREX VPS ranges from a few hundred dollars to thousands of dollars, and all depend on the quality of the service and of course the storage available.
But, while an expensive VPS is preferred by most people, it doesn't make the cheaper ones any less. What really matters is that the VPS has all the vital features such as security, easy access and maximum uptime. However, if you can afford to subscribe to an expensive VPS, make sure you are getting additional functionality.
Operating System
Most trading platforms do not run adequately on Linux, which makes Windows the most suitable operating system. For maximum performance, it is always necessary to settle for a Forex VPS that is appropriate for a Windows OS.
However, this does not mean that there are no servers that can run on several operating systems, but it is always best to identify before hand the OS that works smoothly with your platform before you subscribe to a server.
Web Host
You may opt for a specialist FOREX web host or a regular web host; but before you decide consider first what your needs are. While a regular web hosting company may offer better plans and overall support, a specialist FOREX web host has more experience and expertise in FOREX trading, expert advisors and EA installation.
If what you are looking for is a VPS provider that can offer FOREX related support, then you have to use a specialist web host; but if you are professional trader who already understands the details of FOREX trading, then you may opt for a regular web host with a broader plan and support. However, what matters most is the reputation of the provider.
Configuration
This is also important. Before you choose a reliable forex vps provider, ensure that the configuration of the server is tailored to your needs. Some things to consider are; storage, data transfer, and backup protocols. If you also have other concerns apart from those listed, make sure the VPS provider can address those before you go ahead.
DOES FOREX VPS INCREASE EFFICIENCY?
Does FOREX VPS improve trading efficiency? Well, yes it does.
Consider this, you have been in FOREX trading for a while, and your trading has become more sophisticated, obviously this is the time for you to make more profits. How then can you maintain your new status and continue to scale? It is by evolving technology-wise as well. You need a maximum computer uptime, more stability, no delays and an enhanced security. And you can get all these only if you choose a reliable forex vps provider.
A VPS helps you achieve exceptional scalability. You have maximum uptime and your EAs are constantly sending trading orders to your broker whether you are online or not. Again, VPS allows you to choose any location you want, giving you the opportunity to be closer to your broker. As a result you are able to conduct quicker and more effective trades that will go a long way in your growth and expansion.
Also, with VPS you have more stability. You don't have to worry about your system crashing, or about poor connectivity. Whenever you are offline, your hosted EAs continue to execute and monitor your trading. You will also have access to an improved accessibility such that you can log on to your trading account with any device, from anywhere in the world. Now you do not have to worry about your FOREX trade as soon as you step away from your desk.
In addition, VPS also helps secure your trading account. As you begin to make more profit, you need more security than your computer can provide. A virtual server helps provide another layer of protection that makes your trading account less vulnerable to viruses and even hackers.
PLATFORMS THAT ARE COMPATIBLE WITH FOREX VPS
There are several trading platforms that are compatible with FOREX VPS, and these are mostly platforms that support automated trading strategies. Some trading platforms that support automated trading with expert advisors or FOREX robots are;
MetaTrader 4
MetaTrader 5
TradeStation
TradeStationII
Zulu Trade
Ninja Trader
Currenex
AxiTrader
WHO WE ARE
Malaysia VPS is a leading Virtual Private Server provider that is here to ensure that you maintain impressive scalability in your FOREX trading.
You can get the best services when you choose us as your FOREX VPS provider, we offer affordable, fast and reliable FOREX virtual server hosting. We are dedicated to providing a guaranteed 99.9% uptime, a flexible configuration, an easy access and a 24/7 customer support that is only a call away.
---
Click here to Check out Reliable and Cheap Forex VPS Provider now!