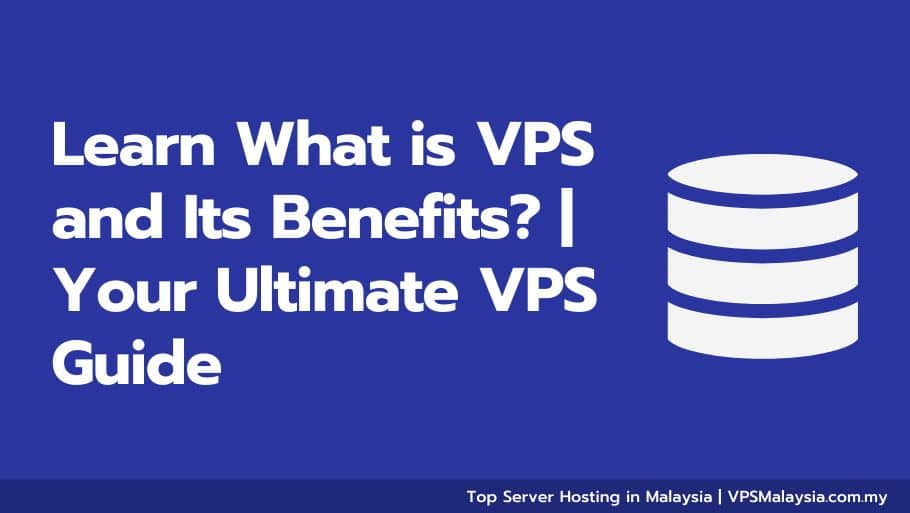 ---
Table of Contents
What is VPS – Introduction
Step into the virtual realm of server magic, where the real power lies in bytes and bits! Unveil the wonders of Virtual Private Servers (VPS) and find what is VPS, as we embark on a journey to demystify its charm and discover why it's your ultimate weapon.
VPS is the coveted gem in today's fast-paced tech world, offering privacy, flexibility, and unmatched computational prowess. It's the ultimate weapon for tech enthusiasts and budding entrepreneurs, propelling businesses to new heights.
Amongst the myriad sorcerers in this realm, VPS Malaysia shines as a leading conjurer, mastering the art of empowering businesses in the region. Join us as we unlock the true potential of VPS and unleash its spellbinding benefits upon your ventures!
What is VPS?
In web hosting, do you know "what is VPS?" VPS is the versatile powerhouse bridging the gap between shared and dedicated hosting. But what exactly is VPS? Picture it as your private piece of cyberspace. VPS, or Virtual Private Server, functions within a more significant physical server but operates independently with its dedicated resources and operating system.
This means you get the best of both worlds – the cost-effectiveness of shared hosting and the control and customization of dedicated hosting. Unlike the crowded neighborhood of shared hosting, VPS ensures your website performs at its peak without being impacted by others.
With full root access, you can tailor software and settings to your liking, enhancing security and overall performance. So, VPS is your digital oasis in the vast online desert if you seek reliability, flexibility, and a personalized hosting experience.
The Rise of VPS: Why it Matters
Once upon a time, there was a game-changer called VPS – Virtual Private Server! It all began with humble shared hosting, but as digital dreams soared, VPS emerged to conquer new frontiers. Like a tech wizard, VPS evolved, wielding the power of a dedicated server, yet cost-effective for all.
Today, VPS is the heartbeat of the web, with demand skyrocketing like a caffeinated rocket. Everyone wants a slice of the VPS pie, from daring startups to seasoned moguls. It's the trending cool kid in the server block!
In the digital age, VPS is the fortress of security, the haven of performance, and the key to unlocking online success. Join the VPS revolution, for the world shall bow to its might!
VPS Benefits: More than just hosting
Are you tired of mediocre hosting solutions that fail to meet your business's demands? With VPS, you get more than just hosting; powerful VPS benefits blow your mind.
Enhanced control and customization: With VPS, you're the boss! Customize your server environment, install applications, and tweak settings to your heart's content.
Increased security and reliability: Kiss goodbye to sleepless nights worrying about cyber threats. VPS offers top-notch security measures, ensuring your data and operations remain as safe as Fort Knox.
Cost-effective solution for growing businesses: No need to break the bank for dedicated servers. VPS provides scalability and flexibility without draining your budget.
Want proof that VPS benefits are the real deal? Countless businesses have soared to new heights thanks to its benefits. From e-commerce stores experiencing lightning-fast load times to startups scaling effortlessly, VPS has got them covered.
Why VPS Malaysia: Your ideal VPS provider
VPS Malaysia – your ideal VPS provider about to rock your digital world! With a lineup of VPS offerings that would make other providers green with envy, VPS Malaysia takes the cake with its unique features designed to cater to your every whim. It's like having a tech-savvy genie at your service!
VPS Malaysia stands head and shoulders above the rest, boasting unparalleled quality, top-notch service, and pricing that won't leave you weeping into your wallet. VPS Malaysia has perfected the art of quality, service, and pricing.
Access to their knowledgeable 24/7 support staff anytime is like having a team of super-powered, technological heroes at your disposal. Your bank account will appreciate it. So, if you're ready to embark on a VPS adventure like no other, buckle up and hop on the VPS Malaysia magic carpet – your digital dreams are about to become a reality!
Conclusion
In conclusion, we know "what is VPS?" It is the server you've been searching for! From unmatched flexibility to fast performance, our main takeaways about VPS and its benefits reveal that it is a hosting superhero in disguise. And speaking of hidden gems, VPS Malaysia shines brighter than a disco ball!
It's the prime destination for top-notch VPS solutions, whisking you away on a digital adventure like no other. So, don't let your website dwell in the doldrums; take the plunge and elevate your hosting game with VPS Malaysia. Upgrade to VPS Malaysia today, and unleash the full potential of your online world.
Frequently Asked Questions (FAQs)
What is a Virtual Private Server (VPS)?
A Virtual Private Server (VPS) is a type of hosting service that provides users with a virtual server environment. Each VPS operates independently, having its own operating system, resources, and full control of the server settings.
How does a VPS work?
VPS hosting involves a physical server that is divided into multiple virtual machines using virtualization technology. Each virtual machine operates independently with its resources, providing users with a private, customizable, and efficient hosting environment
What are the key benefits of VPS?
VPS offers numerous benefits, including enhanced control and customization, improved security and reliability, and scalability. It's a cost-effective solution for businesses needing more resources than shared hosting can provide but aren't ready for a dedicated server.
How is VPS different from shared and dedicated hosting?
Shared hosting involves multiple websites sharing the same server resources, while dedicated hosting provides a single client with an entire server's resources. VPS falls in the middle, providing dedicated resources on a server that's shared with others.
Why should I choose VPS Malaysia for my VPS needs?
VPS Malaysia offers top-tier VPS hosting services with a focus on reliability, security, and customer service. With its competitive pricing and wide array of features, VPS Malaysia stands as a leading choice for both businesses and individuals.
How can VPS benefit my business?
VPS can provide your business with greater control over your hosting environment, allowing for more customization and scalability. It also offers increased reliability and security, which is essential for running a successful online operation.
What promotions does VPS Malaysia currently offer for new customers?
VPS Malaysia frequently provides promotions and special offers for new customers. Visit the VPS Malaysia website or contact their customer service for the most current deals.
How do I get started with VPS Malaysia?
To get started with VPS Malaysia, visit their website and explore the range of VPS options available. Choose the one that suits your business needs the best, and follow the instructions for sign-up. Their dedicated customer service team is also available to help guide you through the process.
Call to Action
Ready to elevate your online presence and supercharge your website? VPS Malaysia is your one-stop solution for all things web hosting. We've got everything covered, from lightning-fast servers to top-notch customer support.
Don't miss out on our current promotions – seize the opportunity to save big while experiencing unrivaled hosting services. Have you got questions? We're just a message away! Get in touch today, and let's make your digital dreams a reality.