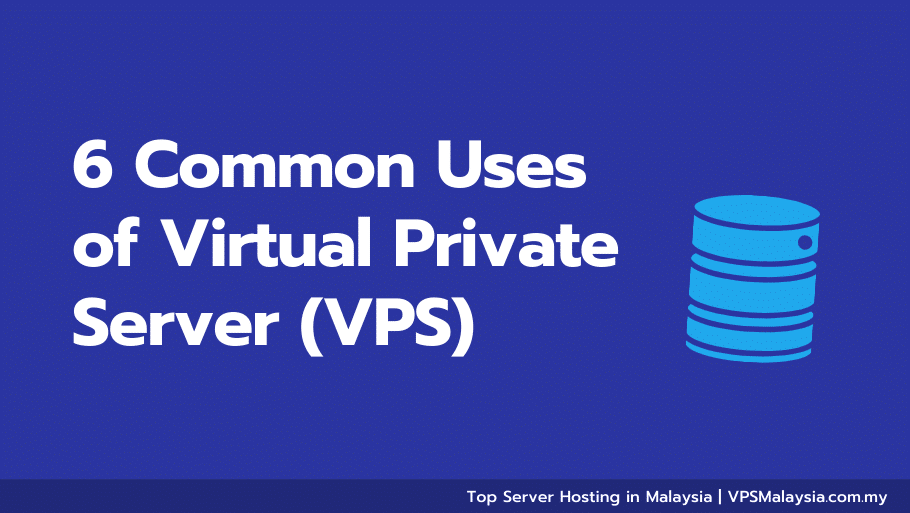 ---
What Is VPS?
VPS is like a computer. It uses physical resources such as CPU, RAM, disk space to create a virtual computer space. In this computer space, you can install an Operating System (OS) that allows you to perform different actions using a friendly interface. You can also run different software and application using VPS.
Uses of VPS
What are the uses of a VPS? Think of it as a remote computer. Anything that you can do on a computer, you can do with a VPS. This means you won't be limited to just web hosting, though most virtual servers are used to host active websites.
Running A High Traffic Website
This is the most common and popular use. Since virtual private servers provide more resources for your website like CPU, RAM, etc. than shared hosting, you'll find that your website feels more responsive. Plus, with full control over the virtual server, you can install and remove software as you like rather than being stuck with what the host offers.
Hosting A Server
Or if you're looking more towards professional uses, you could use a VPS for hosting files and other media. Basically, anything that runs as a server can be run on a VPS.
Hosting A Gaming Server
Have you ever thought of running your own game server for your favourite multiplayer games? Well you can do that too.
Testing New Environments
Since dedicated hosting is expensive, virtual servers can be used as testing grounds for server setups that aren't ready to go live.
Seeding Torrents
Also known as a seedbox, you can use a virtual server only for torrenting. If you torrent frequently, migrating the effort to a remote VPS not only frees up a lot of home bandwidth, but it also allows you to torrent 24/7.
Private Backups
It's cheaper to use cloud-based storage, but if you're already using a VPS for some other reason and you have leftover space, you might as well think of it as free file storage for documents and important files.
What Benefits Do I Get When Upgrade To VPS?
More Server Resources For Yourself
No more sharing when you upgrade from shared hosting to VPS. Expect an increase in server reliability and scalability. VPS also has a better ability to handle sudden heavy workload.
Tighter Server Security
When cyber criminals attack a user in shared hosting environment, every other users in the same environment will suffer the same consequences. Shared hosting is especially sensitive to DDoS attacks. DDoS uses a trial and error method to gain a user's username and password.
Full Root Access
If you need to configure your server, VPS is the perfect starting place. Given a complete root access, VPS provides a flexible testing environment for you to run different experiments.
How Do I Pick The Right VPS?
Now that you're clearer about what you might want to use a VPS for, the next question you should be asking is this:
"How do I pick the most suitable VPS specifications?"
Everyone has a slightly different need. To pick the most suitable VPS plan, first, you must define your requirements by listing down the following:
Location of Your Target Customers
Estimated Daily Traffic to Your Website
How much data storage do you need?
What Software(s)/Application(s) Are You Using?
Point 1: Location of Your Target Customers
Your must know where your customers are coming from. Are you selling to customers within a local region? Or are you selling to customers worldwide? These two make a very big difference. Why? Latency. High latency is the experience of slow website loading speed, when you or your target customers are too far away from the server data center. So, obviously, we want to aim for low latency – as low as possible.The general rules-of-thumb to achieve low latency are:
When targeting customers from within a local region, pick a hosting provider that serves within the same local region.
When targeting customers globally, use Content Delivery Network to optimize loading speed across global users.
We usually refer to latency as Ping. The higher your Ping, the more lag you experience, thus the slower your website loads. A website that loads slow puts your online business at a great disadvantage. Why does website loading speed matter? According to a Google research in 2018, 53% of mobile users leave a site that takes longer than 3 seconds to load. What does that mean? You are losing 53% customers because your website loading is taking more than 3 seconds! Remember, 3 seconds website loading speed is the new benchmark.
Are you losing customers due to slow website loading? Don't guess. Check now using this ping test tool!
Point 2: Estimated Daily Traffic to Your Website
It's easy to know and estimate the number of daily traffic to your website. Set up Google Analytics > Audience > Overview > Custom Date (Date of when websites is established up to today)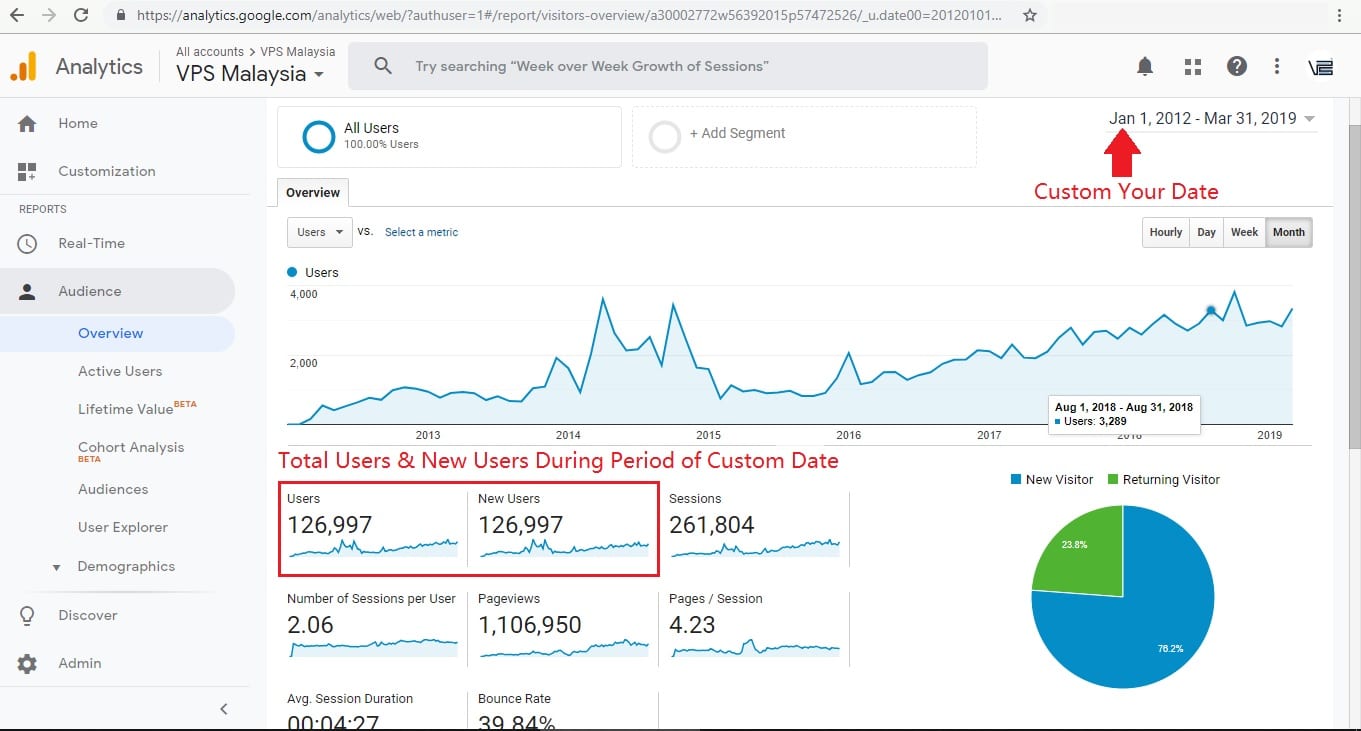 The sum of users and new users will tell me the total number of users since Jan 1, 2012 to March 31, 2019. I will need to do some simple math to get the number of average users per day. But, you get the gist.
Generally, users are encouraged to upgrade from shared hosting to VPS hosting when they experience these red lights:
Website gets more than 10k daily traffic regularly.
Website is experiencing a longer loading time.
How do we get the number of 10k traffic per day? First, you must understand that a server's ability to handle massive amount of traffic depends on several factors concerning sever resource specifications. CPU, RAM, Disk used, RAID, etc – they all contribute to make a capable server. You can read and understand more about server resources here. These estimations come from our own data – during server load and stress test, and benchmark of current customers' usage. When performing a server stress test, we load every single server resources to a maximum of 100% capacity to observe how the server can handle load, and how well it scales during heavy usage. Every single one of our deployed servers has passed the stress test. And we are confident that our servers will meet your high demands and expectations.
Point 3: How Much Storage Do You Need?
It depends. Websites that serve videos to users definitely need a bigger amount of storage. Websites that keep a big database will also require a bigger storage. The amount of storage is generally not a big worry, because you can upgrade your storage as you go. However, the type of storage, does matter a lot. There are two types of storage in the current market – HDD and SSD. Generally, SDD performs better than HDD on every aspect. SDD has a faster read & write speed, a lower failure rate, and a faster boot up time. If you want to read an in-depth comparison between SSD and HDD, we have a blog post about that topic here. Given these advantages and technology that it uses, you'd guess that SSD will be more expensive than HDD, and you're correct. It all depends on you. Do you prefer quality over quantity? Or vice versa. I'm not very patient. Given the choice, I'd pick a SSD VPS Hosting for its fast read & write speed.
Point 4: What Software(s)/Application(s) Are You Using?
The types of software and/or application you run on VPS will decide which OS you should be choosing – Windows or Linux. For example, if you are more familiar with Plesk control panel, it is available on Windows only. cPanel runs on both Windows & Linux. Of course, control panel is only one contributing factor. List down all the software and/or application you want to run, that includes database management software, enterprise resource planning software, etc. After that, you should be able to decide which OS is the perfect one for you. If the result comes down to a tie, you might do a more in-depth comparison between the two. Which one is better in terms of performance, security, server access, support, ease of use and scalability? Read this blog post to find your answer.
How Do I Pick The Right Hosting Provider?
Picking the right hosting provider is important. It saves you a lot of troubles and cost over the long run. Most providers offer similar VPS packages. Then, among a sea of regional providers, which one is the best? A quick search through web hosting forums gave us a solid answer:
Top 3 Must-Have Qualities of A Good Host
24/7/365 On-Demand, Real-Time Support
On-demand support is increasingly more important. No one can predict when is downtime going to happen. No one knows when users will face difficulty with hosting. A good hosting company can provide quick and easy solutions to their clients.
Data Center Location
Pick a good host that is within the locality of you and your target customer. If you serve customers worldwide, ask your host if they provide the service of CDN.
Security
Almost all hosting companies now proclaim 99.99% uptime. That's great news. How about data and server security? What measurements do they take to prevent/solve DDoS attacks? How about SSL? Firewall? These are important questions concerning the security of your server and website, as well as your customers' data.
The market only becomes more competitive. Deploying a good server no longer comes at a high cost. If you can get a good VPS at an affordable price, what do you think are the most important qualities of a good hosting provider?