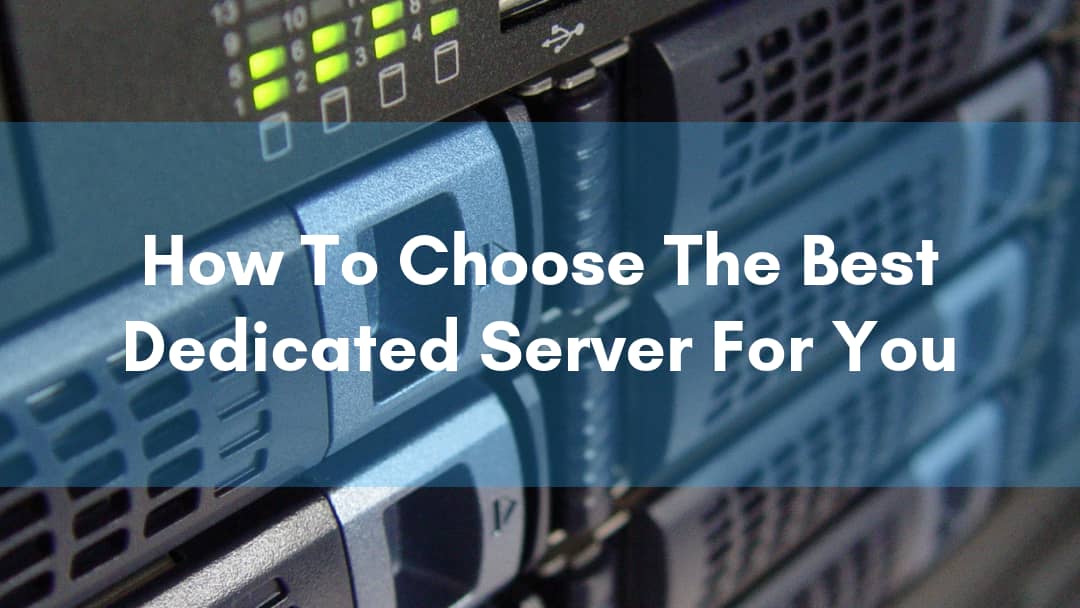 ---
"How should I choose a dedicated server?" As your company assets grow larger and more demanding, this question becomes inevitable. Luckily, it's not a hit-or-miss. Choosing the best dedicated server requires more knowledge than pure luck.
In this comprehensive guide, you'll learn and understand how to choose the best dedicated server for your company and what factors you must consider to get the most value out of your investment.
1) What Is A Dedicated Server?
2) Who Needs A Dedicated Server?
3) 4 Features You Must Look For In A Dedicated Server
4) 5 Reasons Why You Should Invest In A Dedicated Server
1) What Is A Dedicated Server?
Imagine renting an exclusive computer housed in a strategic data center. This exclusivity means that, you can have your very own physical server that is dedicated to your needs. A dedicated server is unlike a Virtual Private Server (VPS) or a shared hosting, that requires you to share the same physical server with other users. The advantages of having your own dedicated server are: 1) higher bandwidth for an improved website performance, 2) highly secured data, 3) protection against cyber attacks and malware invasions, 4) flexible scalability and customization, 5) complete use of server resources catering only to your company, and 6) high-end server performance.
2) When Should You Get A Dedicated Server?
If you notice that your company website is getting more visitors everyday, but the page loading speed is getting slower, it's the right time to upgrade to a dedicated server.
Other than giving your clients a better website user experience, a dedicated server can do so much more! It hosts your communications tools – like email accounts, ERP software and CRM software. You can also host your company data in a dedicated server. It's layers of data security and protection will help prevent hackers, viruses and malicious malware from taking your valuable assets away.
3) 4 Features You Must Look For In A Dedicated Server
This is the basics of how to choose a dedicated server that best suits your needs. First, you must know and understand your hosting requirements. That way, you can save a lot of costs by avoiding the negative cycle of subscribing to a lesser package that doesn't match your needs.
Let's have a look at the 4 features you must look for to help you choose a dedicated server – the best one!
Feature 1: Server Specifications
Processing Power
Nowadays, most websites would require the services of specialized applications, such as a video player or a customer live chat. Go for hosting companies that offer servers with high-end processors like XEON or dual XEON. Don't opt in for less just because the servers are priced at a lower end. You want to prioritize performance, stability and reliability.
Bandwidth
You should know the average monthly traffic your website gets. Google Analytics can help determine the amount of traffic your website gets on a monthly basis. If your website is not linked to Google Analytics yet, follow this simple guide prepared by Google on how you can setup Google Analytics for your website. Websites that get high traffic volume should go for more bandwidth. You should also go for high bandwidth servers, if you website loads high definition galleries and/or stream in-website videos.
Memory (RAM)
Memory dictates server efficiency and the loading speed of your website. Running an e-commerce website requires more memory space, because your product listing expands every time you upload new products. In general, more RAM gives your website a boosted loading speed.
Storage
There are two kinds of storage: 1) HDD, and 2) SSD. There are several differences between HDD and SSD. In general, SSD is more expensive compared to HDD. But with a higher price, SSD comes with higher functionality, such as faster read and write speed (it means faster file transfer), lower chances of failure and information loss due to the absence of moving parts. Read our guide about server storage: HDD vs SSD, so you can learn more about the differences between HDD and SSD. You should also go for hosting companies that offer RAID technology, which uses multiple disks to avoid data loss due to hardware failure, improve overall server performance and increase server storage capacity.
Operating System (OS)
Choosing between Windows or Linux should depend on the type of applications you want to run on your company server. We'll get into the type of applications that run on Windows and Linux in the next point.
Application
To host MS SQL, ASP.NET or Microsoft IIS, you need a Windows Dedicated Server. Go for a Linux Dedicated Server, if you want to use LAMP or MEAN, or any applications that do not require a Microsoft license.
Feature 2: Data Center Standards
Your website is a funnel where sales conversions happen. Downtime can lead to profit loss. Always make sure that your server is up and running 24/7. Research where the servers are located at using Data Center Map. By picking servers located at a strategic location ensures that your website is accessible at most times. All our servers are hosted in a world class, tier-3 CX2 Data Center in Cyberjaya. With this, you'll be guaranteed 99.98% uptime when you subscribe to our hosting services.
Feature 3: Security
Before choosing a dedicated server in Malaysia, you need to ask the customer support team questions related to access to data, building protection against fire hazards, data security and privacy, DDoS protection against cyber attacks and malware, etc. Having a 24/7 customer support team is another big plus that you should consider before renting a dedicated server.
Feature 4: Requirement Analysis
Renting a dedicated server comes at a cost, and you want to make sure that the server fits your requirement. How can you find a hosting company that matches your needs?
First, find out and analyze what are your needs and requirements.
Ask these 5 questions that will give you the best insights into how to choose the right dedicated server.
Question 1: How much traffic does my website get in a month?
The rule of thumb is: the bigger the traffic volume, the bigger bandwidth and RAM you should go for.
Question 2: Does my website have applications that consume high resources?
If your website has applications, such as a video player, a high definition gallery to load, or a live chat support, then you should go for a server with high computing power. Best to go with Xenon or Dual Xenon servers, so you can upload multimedia files at any creative expense.
Question 3: Do my preferred applications run on Windows or Linux?
To host MS SQL, ASP.NET or Microsoft IIS, you need a Windows Dedicated Server. Go for a Linux Dedicated Server, if you want to use LAMP or MEAN, or any applications that do not require a Microsoft license. We've put together a full table of comparison between Windows and Linux below.
| | | |
| --- | --- | --- |
| BASIS FOR COMPARISON | LINUX | WINDOWS |
| Cost | Free of cost | Expensive |
| Open source | Yes | No |
| Customizable | Yes | No |
| Security | More secure | Vulnerable to viruses and malware attacks. |
| Booting | Either primary or logical partition. | Only primary partition. |
| Separation of the directories using | Back slash | Forward slash |
| File names | Case sensitive | Case insensitive |
| File system | EXT2, EXT3, EXT4, Reisers FS, XFS and JFS | FAT, FAT32, NTFS and ReFS |
| Type of kernel used | Monolithic kernel | Microkernel |
| Efficiency | Effective running efficiency | Lower than Linux |
Question 4: How much money am I planning to invest?
A dedicated server is relatively expensive compared to a virtual private server. But, a dedicated server offers more functionality and security, compared to other a VPS or a shared hosting. A good hosting company should offer a flexible dedicated hosting services, along with 24/7 live customer support, so that business owners can upgrade and expand their servers at any time. It is also a sign of good hosting company if they can offer you flexible payment options (monthly, quarterly or annually).
Question 5: Is the customer support team helpful?
Most hosting companies have a dedicated customer support team, but only handful offers a 24/7 live customer support chat service. Get in touch with their customer support team to get a wholesome experience. Ask about the guaranteed uptime. Notice how swift they respond. How long do they take to solve queries?
Also take time to research and read user reviews about the web hosting company. Genuine user reviews can tell you a lot of things, including how good is their customer support services, how fast can the team solve a problem, and if there's any hidden charges.
4) 5 Reasons Why You Should Invest In A Dedicated Server
Reason 1: Overall better performance
A dedicated server reserves all the computing resources exclusively to your needs and usage only. This means getting an overall better server performance in terms of speed, security and storage.
Reason 2: Cost-effective
At first glance, a dedicated server appears to be more expensive than other server options (shared hosting and VPS). However with the same specifications, a cloud server is priced at a higher end compared to a dedicated server. But in the long run, a dedicated server has the highest best-for-value investment, especially for small to medium enterprises (SMEs). It saves you the troubles and costs of upgrades as you expand and scale your server to cater to a higher traffic volume. Go for a long-term investment.
Reason 3: Scalability and Upgradeable Hardware
The best part of having a dedicated server is customization. You can customize all the hardware to fit your needs. Whether it's adding more RAM, giving it a boost of computing power, or increasing your storage capacity. Call our 24/7 professional customer support team for an upgrade anytime, anywhere.
Reason 4: Flexibility
Servers have many different applications. Ranging from hosting websites, setting up multiple email accounts, data storage, or running a test for an app, a dedicated server can offer you the maximum range of usage flexibility.
Reason 5: Enhanced Security
Shared hosting, VPS and cloud hosting house multiple users in the same physical server. This increases the risk of data loss, malware infiltration, cyber attacks and interception. But, a dedicated server is reserved solely for you. It keeps your company data highly private and tightly secured. Understand the differences between 4 web hostings (shared hosting, VPS hosting, dedicated hosting and cloud hosting) using one of our guides.
Conclusion
Luck is not a factor, when it comes to choosing the dedicated server that fits your needs. Avoid making the mistakes of falling for high prices. Price doesn't necessarily justify the quality of a hosting company. Do your research and planning well, so that your investment pays off in the long run. Experiment with hosting companies that offer 30-days-money-back guarantee or a trial (even if they only offer a trial with VPS, shared hosting or cloud). That way you'll find out for yourself if the hosting company (that promises 99.98% uptime) is one that you will stick around with.
If you have any questions or troubles with setting up or configuring your dedicated server, get in touch with our professional customer support team. We are more than happy to assist you anytime, anywhere.
Get high-end dedicated servers with the best price at less than RM15/day.
No time to lose? Get Your Dedicated Server Ready In Under 4 Hours. Try Today