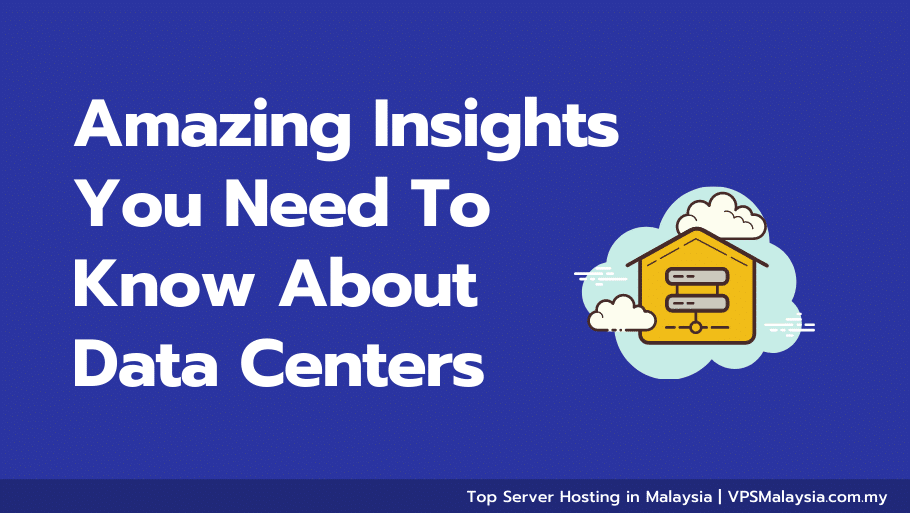 ---
In the age of globalization and digitalization, data centers have become a part and parcel of the VPS industry. As of today, there are more than 7 million data centers across the globe and IT spending on data center systems worldwide is expected to reach $237 billion in 2021. If you are one of the curious folks who want to know about data centers, you are in the right place. This article will talk about what a data center is, Its core components & types, and why VPS Malaysia can provide you with the best data center support in Malaysia. So without any further ado, let's dive in.
What Is a Datacenter
A data center is a physical facility that companies use to store their data. This is a dedicated space for all the company's data and applications. In the modern era of digitalization, data centers are one of the most crucial parts of a company as they are used to store, process, and disseminate all the data and applications.
A data center is made to protect the company's data at any cost, even in the case of a natural disaster. As data is the most valuable asset for any company, every data center generally includes backup components and infrastructures for data communication connections, power supply, environmental controls, and many other security measures.
Most of the data centers are made of a lot of routers, switches, servers, storage systems, firewalls, application delivery controllers, and many other security measures. A data center is a power-hungry infrastructure. A large data center with an industrial-scale operation can use as much power as a small town.
Modern data centers are able to communicate across multiple sites, both premises and in the cloud. Even the public cloud is nothing but a collection of data centers. When you host an application in the cloud, that application will use all the data center resources from the cloud provider. As you can see, without the help of data centers, our modern-day communication would collapse.
Core Components of a Data Center
Every data center is designed keeping the company's unique set of needs in mind. So companies have the flexibility to use the data centers to their full potential. But some core components are usually found in a data center regardless of its user. let's have a look at all the core components of a standard data center:
Storage Infrastructure
This is the most basic component of a data center as data is the key to modern communication and works as a fuel to all those data centers. The storage infrastructure of a data center mainly consists of the usable space that all of your databases will be stored in. But not any open space will do the job.
The space has to provide round-the-clock access, 24/7 power supply, enough backup options, a heating/ ventilation system, surveillance, and many other security measures. The constant need for power and front-the-clock access to information makes datacenters one of the world's most energy-consuming facilities.
The storage infrastructure also has to provide the specific temperature/humidity range to make sure all of your data is secure and accessible whenever you want.
Computing Resources
This component works as the brain of the whole data center. All the data gets processed through this channel. This component provides the processing power, memory, local storage, and network connectivity you need to run your operations smoothly.
Most of the modern data centers are equipped with state-of-the-art computing resources like ultrafast processors, advanced memory chips, user-friendly operating systems, and all the advanced hardware components to make the data centers as much efficient as possible
Though the computing resources of a data center mostly rely on different kinds of servers, there are also the mainframe, application software, and storage subsystems that will enhance the efficiency of your data centers. Maintaining dedicated servers for different purposes like messaging, file storage, and web applications is a standard practice of maintaining servers in a data center.
Support Infrastructure
It's crucial to make sure that all of your data is available whenever you want them the most. That is why all the data centers are specially built to support 24/7 communication with as low latency as possible. That is why it is crucial to have an adequate power supply, heating, ventilation, and air conditioning (HVAC) systems, backup generators, computer room air conditioners (CRAC), emergency battery power supplies (UPS), and exhaust systems.
To add another layer of security support, most data centers install biometric scanners, video surveillance kits, advanced firewalls, fire suppression kits, and many other updated safety measures. They all work 24/7 across the year to provide you with 99.9%+ uptime so you can access your data anytime you want. There is also a group of staff available to monitor operations on a regular basis. They work around the clock and make sure that everything is going smoothly.
Network Infrastructure
You can store all your necessary data in your data centers but unless you connect them to a network they will not be of much use. The network is one of the most important aspects when you are running a data center. The network will connect all the servers, storage units, data center services, and external connectivity to end-user locations.
Types of Data Center
Though there are many kinds of data centers available and it is customizable according to your own set of requirements, We can classify the most widely used type of data centers into 4 categories. They are as follows:
1.Enterprise Data Centers
As the name suggests, an enterprise data center is the private property of a company with the sole purpose of supporting and maintaining all the data of that particular company. Usually, enterprise data centers are located on-premises, but they can be offline or in a remote location for better connectivity issues as well. This type of data center can offer special compatibility with Specific software applications and strong IT visibility. Enterprise should get a dedicated server for smooth operation.
2.Colocation Data Centers
Colocation data centers rent out rack space to third parties for their servers or other network equipment. It offers a shared, secure space for enterprise businesses. This type of data center is also known as "colo". The main idea of a colocation data center is to force the infrastructure like building, the cooling/ heating system, bandwidth, security, etc while the user company provides the components like servers, storage, and a firewall.
3.Cloud Data Centers
The cloud data centers use a public cloud provider to store and manage all their data. Usually, they work with Amazon Web Services (AWS), Microsoft (Azure), or IBM Cloud. The actual hardware is managed and run by the cloud company and the clients can manage their data within a virtual infrastructure in the cloud server. If you are looking for the perfect data center for your virtual servers, a cloud data center is what you are looking for.
4.Managed Services Data Centers
This type of data center is deployed, managed, and monitored by a third-party data center service provider, usually on behalf of a company. The company doesn't need to buy all the equipment and infrastructure as needed. Instead, the company takes necessary measurements to lease the equipment and Infrastructure. Which type of data center can for all the features and functionality of a standard data center. It uses a managed service platform (MSP) to function.
Why It's Needed
The main goal of a data center is to provide effortless data transfer, smooth communication, increase efficiency, lower the operational cost, resilience, and flexibility in business operations.
A well-equipped data center can offer you smooth communication and effortless management over a wide range of services like: File And Email Sharing
– Storing The Database
– Productivity Applications
– Customer Relationship Management (CRM)
– Enterprise Resource Planning (ERP)
– Supply Chain Management (SCM)
– Salesforce Automation (SFA)
– Order Processing
– E-commerce Management
– Virtual Desktops, Communications, And Collaboration Services
– Virtual Desktops, Communications, And Collaboration Services
Why Cyberjaya CX2
CX2 Datacenter is located in Cyberjaya, Malaysia. Malaysia is one of the leading countries that are focusing on digital data structures and quality data centers. The CX2 data center is ISO Accredited and International TIER-3 Compliant to offer you uninterrupted communication. The dedicated CX2 data center works 24/7 all year round to provide you fast and secure access to your data. It has a stable power supply, state-of-the-art security protocols, weather control systems, disaster management functions, and many more amazing features.
CX2 Data Center is a carrier-neutral data center so you can get the best out of your system regardless of your data carrier. The state-of-the-art security measures will make sure that your data is safe and in all conditions. The infrastructure is strong enough to withstand high levels of natural disasters like earthquakes. The advanced cooling technology will maintain the desired temperature all your long to protect your data. It has the capability to run at maximum load for 36 hours straight in case of any power outage.
In a nutshell. The CX2 Data Center in Cyberjaya is the best place you can have your data center located. That\s why we are able to provide our clients with the best quality service possible.
Our Specialities
Let's have a look at what separates VPS Malaysia from other VPS service providers:
High Security
Starting from the Multistep security checkpoint at the entrance, every single level of our data center is highly protected and constantly monitored. The anti-earthquake architecture, 24/7 building access control, and cutting-edge fire detection & suppression system help us to deliver the best quality service regardless of the time. We provide our service with a 99.99% uptime guarantee so that you won't have to worry about the servers being down or any other technical issue. Due to our quality services and high-security measures, customers across the globe trusted us with deploying more than 10,000 servers in our data centers.
Latest Technology Support
We don't compromise the quality of our servers. With the advanced Cold Aisle Containment System, we maintain a constant temperature of 18 °C to 24 °C and the humidity levels stay 35% to 65% RH. We also use cutting-edge hardware for your dedicated servers so that you can get the most out of your system without having much to spend. We provide the best equipment at an affordable price and that's what helped us to gain a great reputation both in Malaysia and across the globe. We use the most advanced technologies so that you no longer have to deal with all the technicalities. Just focus on your business, we got you covered.
Emergency Response
Emergencies don't come announced. but we are prepared 24/7 to deal with any emergency that may come to make sure you have uninterrupted service. We monitor server performance closely with cutting-edge monitoring tools and an expert team who know how to fix unexpected lapses quickly. We also use the best approach in the stress testing and benchmarking servers to make the process fail-safe and effective. Our data centers have high sensitivity smoke detectors and fire suppression systems (Water mist system & gas system) so that we can be ready for any and all emergencies without hampering your productivity. We also have power redundancies that can give 36-hour backup so that you get the uptime you are looking for.
High Productivity and Optimization
The last thing we always want to do is improve your productivity by providing optimized service. That is why we optimize our servers regularly to boost your efficiency and minimize our downtime. With our cutting-edge technology, expert team, and hardware support, we make sure to get rid of frequent downtimes. We also provide multiple options and service providers to ensure constant connectivity. We also have a qualified research and development team that is walking constantly to find ways to innovate and revolutionize our services. We believe there is no end in development and we are trying constantly to make our services even better. So If you are one of them who are looking for the most reliable VPS hosting, You can rely on us.
24/7 Customer Support
No service is complete without good customer support. That is why our dedicated customer support team is ready 24/7 to help you in any kind of need. By virtue of our cordial and dedicated customer support, we have been able to satisfy our customers in more than 50 countries across the globe. Aside from providing world-class service at an affordable price, Our customer service is what makes our clients keep coming for more. No matter what kind of sticky situation you are in with your service, we are always here to help you out. You don't have to take our word for it. Check out our customer review section and you will get the idea.
Final Thoughts
Malaysia is the rising star in the data center market. With the CX2 data center in Cyberjaya, the country has entered the highly competitive world of providing the best data center service. With all that power at our disposal, we work our best to provide premium quality service at an affordable price range. So if you are looking for one of the best data centers, we can confidently suggest VPS Malaysia. Join us to experience the journey for yourself and let's start progressing together.