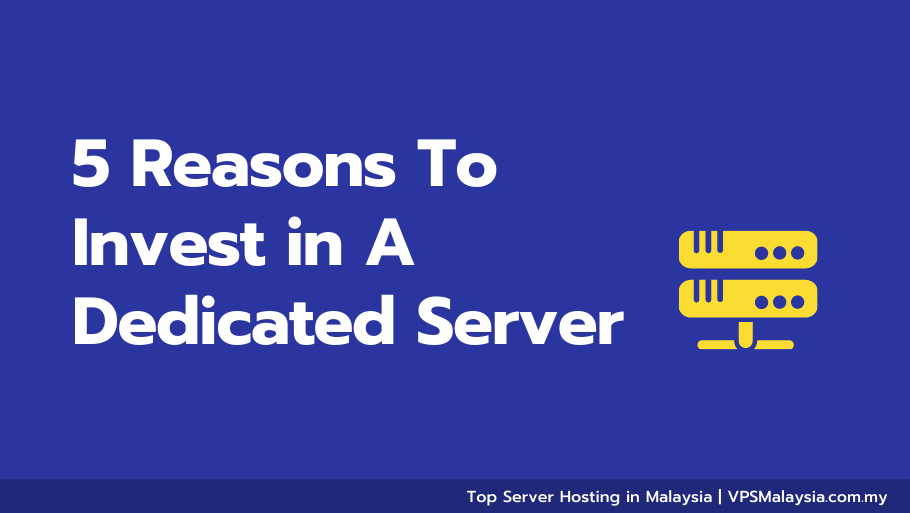 ---
Dedicated Server is undoubtedly one of the most important (but, underrated) asset for enterprises and companies. Think of a dedicated server as a workhorse – an extremely powerful computer that can host many uses and applications for your company.
Here are the top 5 reasons why companies should invest in a windows dedicated server for a long-term growth.
1) Improve Website Performance
Websites are part of a necessary branding and marketing tool for all types of businesses. Having a dedicated server improves your website performance. Your website gets a faster page loading speed and less downtime. This means a higher visitor retention because users are shun away by frustratingly slow loading website.
According to Akamai, if your website takes more than 3 seconds to load, you could be losing near to half of your visitors. That's a considerably huge amount of loss in conversions and profits. In this amazing article put together by HubSpot, it explains how page load time affects conversion rate using 12 case studies.
2) Cost Effective Solution for Your Business
Having a dedicated server is a great investment for enterprises, because 1) you can have dedicated resources for your company websites, ERP software, data, emails, etc, and 2) it keeps your data highly secured.
Getting these perks come at a price. However, comparing a dedicated server to a cloud server with both having the same server specifications, a dedicated server is a more affordable solution for your enterprise in a long run.
3) Keeping Communication Channels Private 
Websites often integrate many forms of communication channels, such as email, chat room or chat bots. When a message is sent across the Internet, there is a window for interception, making these messages easy targets to be stolen.
With a dedicated server, you can encrypt your company messages and keep them private. You can also regulate how your server network devices receive and send messages. This is useful if you own a business, and you don't want your employees using work emails for personal matters.
Having your own company email server also gives you the flexibility to send emails without any attachment limitation. When sending emails through Gmail, for example, your email file must not exceed the limit of 25MB. With your own server, you can send heavy files attached to an email without needing to resize the files over and over again.
4) Keeping Important Data Secure
Data is undoubtedly one of the most valuable asset for every companies out there. We cannot afford to lose them. With a dedicated server, you can leave your worries behind.
Features like Firewall and Intrusion Detection System (IDS) helps prevents hackers. The system alerts you whenever some suspicious activities are found happening within the server. You can go an extra step forward to implement an Anti-DDoS System. Anti-DDoS prevents hackers from overloading your server system. System overload can cause server failure. If your company server fails, all forms of communications go down. Yes – things like emails, real-time communication software, website or basically anything that is connected online via the server. Better safe than sorry!
5) Flexible Application and Usage
A dedicated server offers your company a flexible amount of space to host a myriad of applications. Other than hosting a website, a dedicated server also has other uses, such as storing your files and data, hosting a VPN to secure your data, hosting multiple communication channels, and many more.
Conclusion
As your company grows and expands, having a dedicated server is a great tool. It keeps your company data highly secured, decreases the chances of data loss, keeps your company communication channels private, and improves the performance of your company website. You can get all these amazing benefits at a very affordable rate of less than RM15/day. Read our in-depth guide here to help you better understand and pick out the most suitable dedicated server for your company.
If you have any questions or troubles with setting up or configuring your dedicated server, get in touch with our professional customer support team. We are more than happy to assist you anytime, anywhere.
We guarantee to provide you high-end dedicated servers with the best price at less than RM15/day.

Instantly setup your dedicated server in less than 4 hours . Try today!