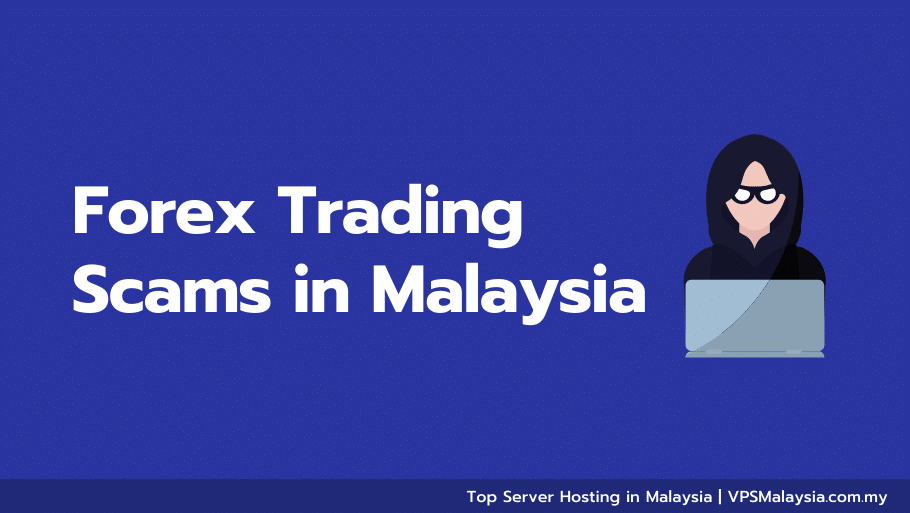 ---
Introduction
The forex market is huge. Large sums of money (as much as $6 trillion) move through it daily. That creates a lot of potential for making massive profits. You can access these profits no matter the type of trader you are. If you are a human trader, the profits are endless. Even if you implement robotic trading for which you will need a Forex VPS, the opportunities are still very much available too.
Forex Trading Scams in Malaysia
As a result, many retail investors are constantly flocking in to reap the bountiful benefits the market presents. There is an entire industry centered on enabling people to trade in the forex market. This industry consists of various participants such as educators who train traders with the skills they need to succeed. Others, such as the brokers, provide the platforms on which they trade.
Due to the size of the industry and the opportunities therein, there is a lot of scams claiming to offer these services as well. Their goal is to rip people off their hard-earned funds. This piece introduces you to the concept of forex scams in Malaysia and how to avoid them. First, you need to know the types of those scams that exist.
Types of Forex Scams in Malaysia
The first step in avoiding Forex scams in Malaysia is being able to spot them. These scams manifest in various forms and types. Thus, it is important that you can identify them. Outlined here are the most popular types of forex trading scams in Malaysia. Here, they are properly discussed:
1. Forex Education Scam
Although forex trading can be very rewarding, it is hardly profitable for the majority of people that engage in it. Statistics claim that the majority of forex traders, especially new traders, lose their capital in the forex market. Some numbers even have it that as much as 90% of traders – especially newbies – lose most of their trading capital, if not all of it.
Hence, to become profitable in forex trading, you must first be properly educated in its art and science. You must be ready to undergo thorough and comprehensive trading education and training. You can get this education from numerous sources. For instance, some people get it from YouTube which is free. Many free courses are online that can teach you how to trade and put you on the road to profitability.
However, the fact needs to be stated. The knowledge and experience you derive from these free sources are usually not sufficient enough to make you profitable. Most forex educators do not reveal all there is to know about profitable trading. Usually, the free courses are just good enough to teach you the basics you need to get started. But as you will agree, the basics are not enough to become profitable. Thus, you need advanced trading knowledge.
Most times, this advanced trading knowledge that will make you profitable will only be delivered by paid instructors. Almost no one teaches profitable forex trading strategies for free. That is, usually, you need to pay to a forex trading coach. Sadly, however, many persons pose as real coaches online, whereas they are not. Some may take your money, promising to teach you how to trade profitably. To lure you to pay for their courses, they tell you that they are the best in the market, and that you can become highly profitable in a short time by studying their courses.
When you purchase those courses, you discover that they are merely repackaged resources that you can get online for free. Some others get your money and do not provide any value at all. Others even totally run away with your funds. A few even teach you completely wrong information about the forex market. These can be quite devastating to traders, especially the up-and-coming ones.
However, you can protect yourself from all of these. This you can do by being smart at identifying these scams when you encounter them. Usually, these forex education scams have some things in common, including:
Alluring promises: Those who sell scam courses usually make bogus promises of how they will make you a profitable trader in a week or two. They claim that their course is the ultimate guide to making it in the forex market and that they reveal expert "secrets."
If you come across people making claims like these, there is every tendency that they are not credible. The truth is that becoming successful in the forex market is very tough. It is not a day's or even a week's job. Many commit as much as several months, and even sometimes, years to become confidently profitable at trading.
Thus, if there is anyone promising that you will gain mastery and become profitable in a short while, it is very likely they are phonies and should be clearly avoided.
No Proof of Performance: One of the effective channels through which you can get to discover these forex education scams is their lacking real track records online for you to check. This is unlike the genuine forex educators who, sadly, are very few. The real forex coaches must have been in the business of trading for quite some time and during that time, they would have become popular in the industry. They usually also have positive reviews and testimonials from real students who have already subscribed to their courses.
However, you should note that you have to be careful when it comes to checking reviews online as there are many fake ones too.
Ridiculously Low Price of the Courses: This is actually not always the case. However, possibly, you can separate the genuine from scam educators based on the prices they charge for their works. It is almost always the case that credible providers of forex education know the worth of the knowledge and services they provide. Thus, they usually charge more for their courses. On the flip side, knowing full well that their courses are not authentic, the scammers charge ridiculous prices just to make money. Their goal is to rip you off, so they make their courses cheap so that you can easily afford them. However, this is not the case all the time. Some cheap courses are provided by trusted educators as well.
In all, it is important that when looking out for fake forex educators in Malaysia that you consider multiple factors and not just one.
2. Forex Trading Signal Scams
This is one of the fastest-growing forms of forex scams in Malaysia. A forex trading signal can be seen as an instruction from an experienced trader telling you which trades to take. The signal specifically instructs you as to the exact price at which to enter the trade, the direction that the trade will likely move, and also the time at which to exit the market.
Signals are very helpful, especially for newcomers, in trading. Becoming a consistently profitable trader in the forex market takes quite some time. It can run into months, or even years in some cases. However, with signals, traders may not need to go through all of these. They can fund their trading accounts, select the signals to trade, and potentially become profitable. Nevertheless, usually, no one offers signals for free. To access signals, traders have to subscribe to a signal service. They pay a price for this.
However, just as with forex educators, not all forex signal providers are trustworthy. In fact, there are a lot of scams amongst them, much more than the credible ones. Forex signal scams manifest in the manner of scammers promising to give you access to daily profitable signals that will enable you to trade and profit. They will tell you that the signals have the potential to make you extraordinary profits daily or weekly. Some promise as high as 200% daily or even more. They parade themselves as veteran traders who have committed several years to mastering the forex market, claiming that there are some "secret" strategies for consistent profits.
Usually, all of these are not true. Some copy the signals of others and then resell them to you. And not all the signals they provide to you are well researched. Hence, the chances that you will lose your money when you use those signals are high. But should you avoid using forex trading signals? No! The benefits of trading with signals, especially if you are a newbie trader, are numerous. What you need to do is learn how to spot the scams amongst them.
Scam forex signal services do have some things in common. These include:
– They make a lot of attractive and bogus promises: In fact, they even go as far as presenting screenshots of how their signals have been profitable. They may even present testimonials of fake students to back things up. However, of course, most of these were fabricated.
– They don't have a verifiable track record. Are they traceable online? Can you verify their work in the forex community? If not, avoid them.
3. Forex Investment Scams
Another quite popular method through which scammers rip people off in Malaysia is via forex investment programs. Here, some persons pose as if they are professional traders. They request that you "invest" your capital with them, promising to trade with the money and generate returns for you.
Their mode of operation is quite similar to the ones used by the forex education and forex signal scammers earlier discussed. They have become very popular on various social media platforms. With these people, you get to commit your hard-earned money in the expectation of exponential returns. However, usually, when they receive your money, you don't get to see them again.
4. Forex Trading Robots Scam
Another form of forex trading scam in Malaysia is forex trading robot scam. This is, by far, the fastest growing of them all. Robotic or software trading is growing in popularity because of the bountiful benefits it offers. With it, traders get to avoid all the downsides that come with human trading. As a human trader, you are subject to a lot of mistakes due to your emotions – fear, greed and even hope. Then, the amount of work you can do in the market is quite limited. For instance, you can't cover several markets at once.
All of these human flaws are solved by forex robots. In fact, forex robots generate more returns than human traders. To trade with robotic traders, you need to choose credible forex VPS hosting. To access forex robots, you most likely have to pay to subscribe to a provider. Many of these providers, however, have been known to be fake. Also, your forex VPS provider may as well not be trustworthy, raising the need for you to become knowledgeable about how to choose the best forex VPS provider.
5. Forex Brokers Scams
Perhaps, this is the most popular form of forex scams in Malaysia. Before you can trade forex, you must register with a broker. Without a broker, you just can't have access to forex trading. There are countless brokers from whom you can choose. Due to the popularity of forex trading, many people have rushed into the space to offer forex brokerage services. But not all are credible.
These brokers entice traders with promises of bogus benefits that they cannot get elsewhere, anywhere. However, the trader ends up not getting any value whatsoever. In fact, many may even run away with your hard-earned capital.
Since you cannot but come across these scams, you must be able to identify them to avoid falling victim to them. The factors that are common across them include:
– They promise you extraordinary bonuses such as very high leverage, free "real" trading account, trades that are risk free, and much more.
– Just as with other forms of scams, these also usually lack reviews and ratings online. Hence, especially, avoid such brokers if you notice this.
– They are not regulated. This is another huge red flag. Any broker you go for must be registered with credible regulatory authorities. These regulatory authorities protect you in case of breach of service by the broker. However, scam brokers avoid regulation so they don't adhere to the rules.
Instead, you should only go for the best and most reliable forex brokers in Malaysia.
Conclusion
You desire to profit from forex trading in Malaysia. However, many individuals are looking to capitalise on that desire to rip you off. You don't want to fall victim to them. Thus, you have to avoid them. To avoid them will require you to learn how to first identify them, however. From the comprehensive guide we have provided here, you should have known how to do just that.