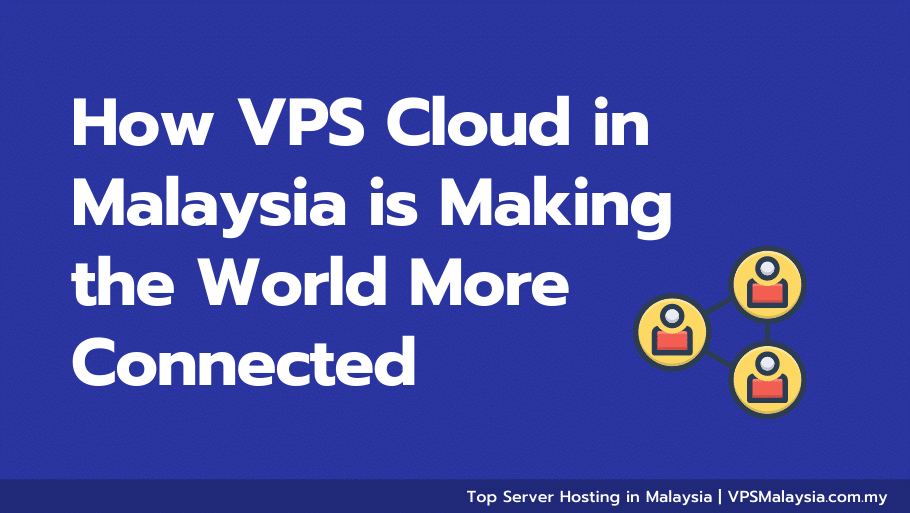 ---
The recent COVID-19 has taught us new ways to adapt and overcome the pandemic. It has forced many organizations to increase their digital footprint. Every corporation needs a digital place in this digital world. With the increasing demand for websites, web apps, and digital content the demand for storing all these in a digitally allocated space AKA servers has skyrocketed as well. Spatially the Cloud storage and management services have gained a new height. To keep up with the uprising demand, the VPS cloud in Malaysia has bloomed like never before.
Today we'll talk about the Cloud service industry in Malaysia and how it is connecting the whole world. So let's fasten your seatbelts and join us on the exciting adventure of finding out how Malaysia will become the powerhouse for the upcoming flexible IT industry.
Why Malaysia
The recent pandemic has taught business leaders the importance of a flexible and scalable IT infrastructure. It also has made cloud technology of the essence for running online businesses smoothly. That is why we are seeing the greatest increase in private/industrial cloud adoption. According to recent surveys, cloud services are booming like never before.
Who doesn't use cloud service, right? Big Brands use private cloud services. Alibaba Cloud, IBM Cloud, Samsung Cloud, Oracle Cloud, Adobe Creative Cloud, Google Cloud – these are just some of the giants we know of. But every business nowadays needs some sort of cloud support. That is what drove the uprising of cloud services. What helped is the support of the Malaysian Govt.
The authority wanted to ride the hype train and steer the growth of the cloud industry and for good reason. Not only they incorporated a cloud-first strategy in almost all sectors, but they also put special effort into appointing cloud service providers (CSPs) and managed service providers (MSPs). As a result, in 2020, 58% of investors had to raise investment in the private cloud, where the global average is 37%.
The objective was to create a positive transition into the cloud network. And they succeeded blissfully. Now Malaysia has dedicated IT zones (Kuala Lumpur, Cyberjaya), expert manpower, advanced technology, and a loyal client base. With this amazing improvisation, Malaysia has overcome multiple steps on the track to become a regional leader in the digital arena.
A Booming Industry
With the help of the proper authority, the cloud in Malaysia is booming like never before. Now there are a lot of cloud providers, regional data hubs/data centers, cloud consulting services, cloud storage services, cloud computing services, cloud customer services, cloud tech solutions, and many other effective cloud services that can provide sustainable cloud services. More and more businesses are stepping into the digital world and Malaysia is ready for it.
The main advantage of cloud services is scalability and operation cost. You no longer need to stay attached to a physical location with your legacy technologies. People are also getting more interested in learning digital skills. Though the cloud service industry depends on a 24/7 power supply, and an active internet connection, digital infrastructure can help you adapt to the new norm "work from home" and scale your business however you see fit. You'll have complete control over the resources you use and the ability to make your business processes more efficient.
According to the head of technology consulting at KPMG Malaysia, Alvin Gan, "With restricted movements around the world and continued lockdowns, many businesses have integrated cloud-based solutions to speak for remote workplace, continue reaching their customers online and protect their data".
The transition isn't all harmless though. The number of security protocols has increased dramatically along with the threats. Many regulatory requirements have been imposed to protect the vast amount of data. According to the Star, a renowned news portal, The Malaysian govt. has plans to advance 80% of its services to the cloud solutions by 2022, which includes 98.5% of SME establishments. Most of them already have started utilizing effective cloud services like IoT, cloud computing, and data analytics.
But the most booming part of the Malaysian Tech Industry is the cloud storage services like VPS hosting, dedicated servers, reseller hosting, and other cloud infrastructure-based services. No matter what sized businesses you have, you'll need secure cloud storage to set your footprint digitally.
What Do They Offer
Cloud service providers worldwide offer mainly three types of service to their clients. Let's have a look around at all those cloud service types –
Infrastructure as a Service (IaaS) — The most basic product that provides physical and virtual servers for storage and processing power. For example, windows vps, cpanel vps, linux-kvm etc. We will talk about this one, in particular, today in the following sections of this article.
Platform as a Service (PaaS) — It provides an environment for you where you can build applications and software without worrying about matters like middleware and operating systems.
Software as a Service (SaaS) — It is a model where companies provide the software or applications over the Internet and customers are only required to pay for what they use of that application.
What is The Benefit of Cloud VPS
You must be wondering why anyone should use cloud VPS service, right? Well, cloud VPS comes with a wide range of functionalities and efficiency measures that can boost the performance of your company by a fat margin. Let's have a look at the key-benefits of using a cloud VPS service down below:
Ease Of Control Through Better Accessibility
The objective behind cloud VPS is that you should be able to easily access your data and services from anywhere on the planet, whenever you want. Cloud VPS can help you access your data regardless of time and place, provided they are connected to the internet. You no longer need to rely on the traditional and tiring access protocol. Set up your preferred version of the server however you like.
One other great thing about cloud VPS is, there is absolutely no limitation on what type of programs and applications you want to install on your allocated server-space. Having the root access will allow you to choose the operating system and the control panel as well. You can place absolutely whatever you want to in your designated CloudVPS server.
Efficient and Scalable
One of the main advantages of using a Cloud VPS solution is to make the whole system efficient and scalable to your needs. With a Cloud VPS solution, you can easily add more storage, enlarge allowable RAM, or scale your CPU performance, and reduce the downtime without having to migrate your website into a different server. This makes the business operation more efficient and reduces operation cost significantly.
As you'll have the option to add extra resources anytime you want, the speed of your website will also be faster, making more conversions and earning you more revenue. Due to the nature of a VPS cloud system, It's very unlikely that you have a slow website. So you won't lose any of your precious customers due to slow loading speed.
Better Optimization and Collaboration Feature
As the cloud VPS solution is far cheaper than the traditional ones, it will offer you to optimize your website to the fullest. As all of your data is available to access anytime, all your collaboration works will become much smoother as well. You will be able to use exactly that much resources that you need, which will help you optimize your solution better.
All of your data will be stored in multiple drives, making sure you don't miss any important details. When you collaborate with your team, everybody will work seamlessly due to ther better collaboration features a VPS cloud system provides.
Dedicated Resources
Just like the virtual server, you'll have all dedicated resources in your VPS cloud solution. To make sure you always get what you need the most, VPS solutions provide scaled and load balanced host nodes. As a result, no more noisy neighbor syndrome for you. And the resources will change depending on the environment. For example, if you switch to a linux-kvm system from a windows vps or a cpanel vps, your resources will automatically adjust.
As for other perks, the dedicated resources will also make it easy to scale up your operations without interfering with the server. As the providers invest heavily in computing hardware when building data centers, it'll be easy for you to find a datacenter with the most advanced configurations which can't be replicated by any DIY model of virtual servers.
Increased Reliability and Security
As your Cloud VPS system will have dedicated resources, you won't have to worry about the protection of your data as well. Every bit of data will be recorded over a number of storage units to make sure you never lose your precious data. And the self-healing technology will also help you to protect your data swiftly. If one unit gets damaged, your data will automatically be transferred into another working unit.
Cloud VPS solution also contains an built-in multi-tiered security mechanism to give your data additional protection. So all of your data will be protected from malicious software and cyber attacks.
What Sets VPS Malaysia Apart
Technical Specifications
Many cloud service providers offer the best quality hardware but fail to do so in a budget-friendly way. VPS Malaysia tries to offer the best service within a reasonable price range. And that has helped them to gain the trust and loyalty of their customers. We use the infamous Intel Xeon processor E5-2680 v2 with up to 10 CPU cores to offer great computing power. VPS Malaysia also uses SDDs instead of traditional HDDs to offer greater speed without any data fragmentation. The RAID 10 data storage provides fast and reliable protection to your data. With high capacity RAM, Dual PSU(Power Supply Unit), and BBU (Battery Backup Unit), VPS promises to deliver the best quality servers you can get. So, they have all the right gears to provide you the best services.
Advanced R&D Team
There is no limit to what you can improve. That is especially true in the Cloud Service industry. That is why VPS Malaysia has an advanced Research and Development (R&D) that works tirelessly to improve the user experience. They also follow the best approach in stress testing and benchmarking servers so that you can enjoy uninterrupted service with zero or very low downtime. They are constantly working to offer you the performance you desire. They also make the whole process fail-safe and effective. So once you join them, you'll fall in love with their performance right away.
Server Optimization
The last thing VPS cloud in Malaysia wants is to hamper your productivity. That is why they monitor their servers closely to avoid unwanted setbacks. The expert team uses top-notch monitoring and optimizing tools to maximize the output and fix unexpected lapses quickly. The advanced server optimization technology gives them the power to boost their efficiency and minimize their downtime. In other words, they will protect your data and boost your performance regardless of your business type/packages. So you can rest assured. Your data are in good and capable hands.
Over To You
The Digital future is here. More and more businesses are joining the transition to update themselves alongside their services. South-East Asia, spatially Malaysia is becoming a hotbed for fierce competition among cloud services providers fast. The unsaturated cloud market, large manpower, and support from the authority have helped this industry to boom like never before. This is the future of cloud services and Malaysia is going to lead us to the future connecting more and more companies.
No more today. I hope this article proves to be helpful to those who are in need. Please do share your opinions with us in the comment section below. Thanks for reading this far. I wish you all the best.