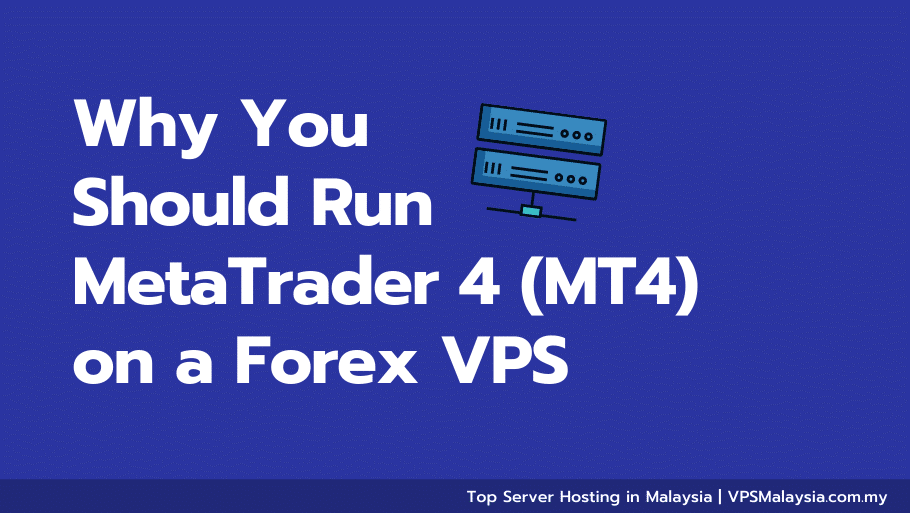 ---
Running MT4 on a Forex VPS or MT4 VPS has several major benefits, including 24/7 access to internet and power supply, 24/7 access to professional customer support, and access to your MT4 accounts anytime, anywhere.
In this article, you will learn:
1. What is MT4?
2. What could possibly happen when running MT4 without a Forex VPS?
3. What is a Forex VPS?
4. Why run MT4 on a Forex VPS?
1. What is MT4?
MT4 is a major Forex trading platform most traders use. It's easy, it's friendly, and most important, you make real money while you're on it. MT4 hosts a plethora of functions- from real-time chart and indicator updates, to hosting your most reliable and trusted Forex EAs, to copy trading, to performing withdrawals and deposits. These functions require traders to run their MT4 24/5. Except on Saturdays and Sundays, when the banks are closed.
2. What could possibly happen when running MT4 without a Forex VPS?
MT4 is the place where all money making trades come true. Whether you're a professional who trades with exceptional knowledge and prediction, a trader who relies on the accurate prediction of a Forex EA, or a beginner who copy trades a trader. MT4 is the place where all of these happen. It only makes sense that you run your MT4 24/5, because the Forex is a world that never sleeps. At every week , day, hour, minute and second, trades happen globally. According to the Bank for International Settlements, foreign-exchange trading increased to an average of $5.3 trillion a day in 2014.
But, unfortunate incidents could happen. The moment you're offline, away from MT4 and out of action, you could potentially lose hundreds or even millions of profits. What could happen, you might ask.
Possibility 1: Computer failure, Internet failure & electricity outage
Imagine that as you sit down in front of your computer, and you're all set to make the best trading decision today, after getting in touch with various sources of the market sentiment. You're super confident, that today, the market will be bullish. You try to turn your computer on, but the computer just doesn't start! There goes your profits… This is just one of the many examples of unfortunate incidents that could cause you to lose profits. There are many more, such as internet failure. No matter how many times you tried signing into your MT4, you just cannot get in! Or electricity outage. Obviously neither your internet, nor your computer works at this point.
Possibility 2: Computer wear and tear 
Over the long run, running MT4 on your personal computer is not the best choice of action. Computers need rest so that it cools down after running loads of applications for a period of usage. Letting your computer run 24/5 is most likely to induce wear and tear much faster, therefore shortening its lifespan. Technical experts from empowerit.com.au suggests that, a computer has an average lifespan of 3 years, while a laptop spans on average for 2-3 years. Empowerit also further explains the types of wear and tear could happen to the internal components. Before you even know it, your computer doesn't run as smooth as new. Then one day, it just wouldn't switch on anymore. The only choice you have left is to let it go, and purchase a brand new computer as a replacement. By then, you're thinning your wallets by putting on more costs, as you watch the profits from your Forex trading go down the drain.
Possibility 3: Electricity cost increment
Apart from the costs of having to replace your computer more frequently due to its quickly relinquished lifespan, there are also added costs involved in running your internet and computer on electricity 24 hours a day, 5 days a week. MT4 is a real-time Forex trading platform. That means, all the charts and updated in real-time, by the seconds. This feature creates a lot of usage on CPU and RAM. A computer that runs 24/5 on tremendous CPU and RAM performance requires a significant amount of electricity. Electricity to power your computer, on top of electricity to power your internet modem, would total up to a significant increment in your electricity bill every month. Although you might be profiting off Forex, your expensive electricity bill is chipping on your profit.
Is there a solution to lessen all these added costs? Of course. Have You Heard of Forex VPS?
3. What is a Forex VPS?
A Forex VPS is a VPS for Forex Trading, which is a computer hosted in a special server room. Forex VPS is dedicated to running MT4 24/7. The hardware specifications are specially tuned to optimize to its best performance to allow smooth trading on MT4 using Forex VPS, especially so for traders trading with EAs. Our Forex VPS is very easy to setup and navigate. You can set up up to 200 MT4 with our Forex VPS plan in just 30 seconds with VPS Malaysia.
4. Why run MT4 on a Forex VPS?
Forex VPS is your best choice to run one or many MT4 accounts. Having a Forex VPS is like having a computer dedicated to only your Forex trading needs. There are many benefits to subscribe to a Forex VPS.
Benefit 1: Trade Anytime, Anywhere
When you subscribe to our Forex VPS, you'll receive an email with a simple walkthrough that guides you on how to set up your Forex VPS and your Remote Windows Desktop. The Remote Windows Desktop allows you to sign in to your MT4 accounts from any electronic devices. You can trade using your computer, your laptop, your tablet, and even using your smartphone. If you are a professional Forex trader, this feature is going to be super useful, especially when you leave home for vacations or you are on a business notice. Just search for "Remote Desktop" on Google Play or Apple Play Store and install any RDP software you can find. Here are the Top 5 RDP softwares for android recommended by androidauthority. Our Forex Plans give you the flexibility to trade across multiple electronic devices. You can trade anywhere, at anytime.
Benefit 2: Power Security and Internet Uptime
Forex VPS are small, but powerful computers hosted in a special server room. These computers are connected to electricity and internet 24/7/365. Running MT4 on a Forex VPS is especially useful for traders who copy trade, and traders who trade using EAs. EAs run algorithmic trading using computer based algorithmic software. To put simply, if you are an expert Forex trader with many years of trading experience and market knowledge, you can programme a robot to trade just like you by inserting lines of commands that teaches the EA your trading knowledge. Since an EA is always up and running, it is a smart choice to run your MT4 on a Forex VPS. That way, you'll be trading all day, all night, even if you're not in front of your computer all the time! You just have to sit back, relax and let the EA generate profits. But, if you are not careful enough to select a Forex VPS that can handle the amount of your EA's workloads, you are still bound to face losses. We have a simple guide that can help you choose the best Forex VPS plan for your Forex EAs.
Benefit 3: Worry-Free Trading
There is of course, the option to power all your MT4 accounts on your personal computer and home internet network. Well, if your trading profit is tremendous, it doesn't hurt to pay for a little electricity bill, right? Although paying bills might not be your biggest worry and enemy, technical problems could drive you crazy. Managing a VPS is not for everyone. VPS management requires an adequate amount of technical knowledge about servers. While you might be confident about your skills at Google searching for an answer, consider the amount of time you would lose trying to fix or troubleshoot a technical problem. Then, consider the amount of profits you could have generated over that time. Is it really worth the headache, and the loss? You could have just rented a piece of equipment, and let the expert do its job at managing servers. All these only for the price of less than RM3 a day!
Benefit 4: Low Latency with Fast Execution Speed
VPS Malaysia's Forex VPS are optimized for trading and located in the same datacenter of your broker's server. This makes fast execution trading possible as the time taken for the data transfer back and forth to the broker's server is minimal. Our Forex VPS will be able to achieve as low as 1ms in ping, that's a very low latency. For example, if your broker's server is located at Amsterdam, you can choose our VPS Amsterdam here and you are good to go. Same for VPS New York and VPS London too!
Here you can learn how to choose a high-performing Forex VPS worthy of your investment in under 5 minutes.
Experience our 30-day Forex VPS trial without any risk. If you're unsatisfied with our service, you can have all your money back within 30 days.
Start here, by choosing a Forex VPS plan that best suit your needs.