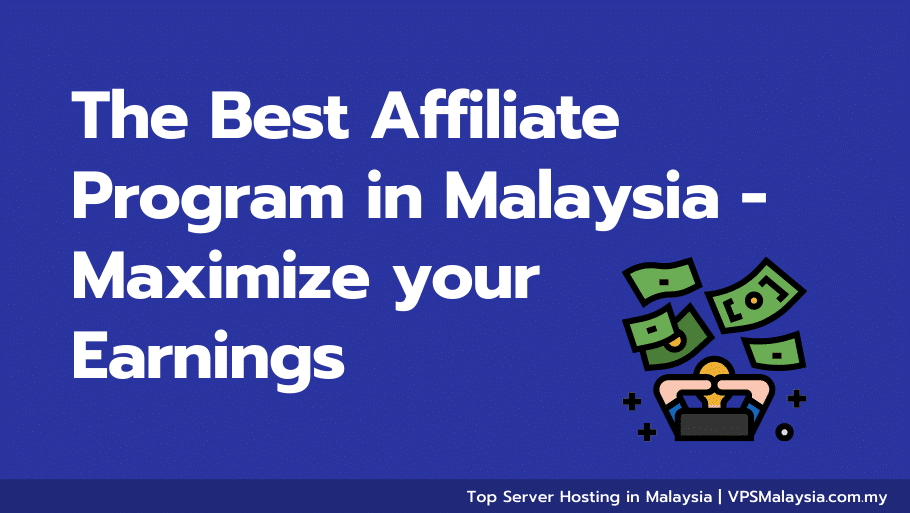 ---
Are you looking for the best affiliate program in Malaysia to maximize your commissions to 100%? How would you like us to help you make the most of your traffic without even having to spend an extra Ringgit? Keep reading. This 5 mins read will provide fresh insights into starting a highly profitable side hustle for FREE!
Sounds Interesting? So, let's start!
But First – Is Affiliate Marketing Worth Your Time and Toil?
Since you are searching for top-paying affiliate programs, you might be well aware of the competitiveness of this lucrative market. Honestly, it's a performance-based business, and you can make tons of money with the right affiliate program. Moreover, the return on investment is promising; there is no way you should miss this irresistible opportunity.
What you only have to do is, monetize your traffic by promoting products in partnership with renowned brands. In fact, you don't even have to track your conversions, promote a program, sit on your sofa, and enjoy your affiliate commissions (Simple as that).
So, next time, when you consider this question, the first thing that should come to your mind is "Get into the race".
Tips to Choose the Best Affiliate Network!
Well, it's a no-brainer that you can make a killing by choosing the best affiliate programs to make money. Whether you are a starter or are already a "Pro", opting for the right program is important.
Well, the good news is some top affiliate programs in Malaysia have incredible offers that no one can refuse. Read our Guide for the Top 5 Highest-Paying Affiliate programs in Malaysia.
Besides, there are tons of other options that you can consider, all having their enticing offers. But certain programs have possible drawbacks and annoying procedures. So, you must be very careful while opting for the "Perfect Malaysia Affiliate Program" because some might be a waste of time.
The best way is to do a complete analysis online, discuss the opportunities with your affiliate network or leave it to experts. That's exactly where this article for the best affiliate program in Malaysia comes in. So, let's dive in to see how you can boost your online earnings to 10X with VPS Malaysia Affiliate Program.
VPS Malaysia Affiliate Program- An Ideal Choice to Mint Money as an Affiliate
With over 10+ years of immense industry experience, VPS Malaysia provides the most trusted, fast, and secure hosting solutions to its worthy customers. Founded in 2012, it's the largest Cloud VPS hosting provider in Malaysia. So it should be of no doubt that working with this big program can prove to be a game-changer for your Affiliate career.
Having 99.9% guaranteed uptime, a professional tech team, and 24/7 customer support, VPS Malaysia never fails to impress everyone. The Company is currently working in partnership with APNIC for IP address administration, which is another plus point. The best thing is that VPS Malaysia is enjoying great recognition both locally and internationally as featured by reputable hosting-review platforms like HostAdvice and Trustpilot.
This top web hosting in Malaysia takes pride in having an ever-growing clientele, serving 10,000+ customers as of 2021. So, get ready to cash your traffic with a recurring flat 20% of the revenue it generates. Besides, the 30 days cookie life adds more value to the offer. So, if you are planning on joining a high-paying affiliate program, you can never go wrong with this best Web-hosting Malaysia.
Top Reasons to partner with VPS Malaysia Affiliate Program
Here are some compelling reasons to join this best affiliate program in Malaysia:
– VPS Malaysia is featured in the "Top 25 Windows Hosting, 2022" and "Top 10 Web Hosting of 2021". Have a tour of its hall of recognition and see what awards make it so popular. These recommendations and awards will ultimately increase your confidence in the deal.
– What could be a better reason to join any program if it's providing a recurring commission of 20% every time your referees renew their hosting plans. Every sane person knows that you need to renew your hosting plan after a certain period. So, it guarantees a consistent passive income.
– Furthermore, you don't need any technical skills to join this affiliate program. So, it's super convenient even for a non-tech guy to generate high commissions with VPS Malaysia.
– Another impressive reason is to request your unique coupon code to partner with this program. Let your followers use your Code and enjoy a handsome commission every time they buy a plan. For adding value to the offer, Cookie Life has a 30-day extension. With these, VPS Malaysia tracks your referees' purchases and treats you with a mighty reward.
– VPS Malaysia gives you complete access to an exclusive professional tool kit. Now design stunning banners, funnels, posters, logos, and everything you need to kickstart your affiliate sales for FREE. 
How much money can an Affiliate make by joining this Program?
Statistically speaking, there is no limit while working for this best affiliate program in Malaysia. The best thing is that you keep making money as long as your referees pay their subscription. Simply Amazing!
The basic hosting plans of VPS Malaysia and their corresponding recurring commissions as of 2022 are:
– Forex VPS Hosting: 20% Recurring
– Windows VPS Hosting: 5% Recurring
– cPanel VPS Hosting: 5% Recurring
– Web Hosting: 5% Recurring
– Linux VPS Hosting: 5% Recurring
– Linux KVM Hosting: 5% Recurring
– Reseller Hosting: 5% Recurring
– Dedicated Server: 5% Recurring
Average Commissions You Earn being an affiliate to VPS Malaysia
Let us give you a rough estimate of how much you can earn by promoting the VPS Malaysia Affiliate Program. Let's suppose you want to promote the Forex VPS Hosting plan that has a 20% recurring commission. Since the Forex VPS Premium plan is most popular, let's consider promoting it to just 100 referees (In reality, the expert affiliates usually have 500+ referrals on average. The plan costs RM129 per month, so you get a recurring commission of RM25.80 for one person. Hence, it makes a monthly passive income of RM2,580 a month and RM30,960 a year. So, you can say that a beginner can easily make up to RM40,000 earning a year as an affiliate with this best affiliate program in Malaysia.
However, if you promote the Forex VPS professional plan to the same 100 users, you make RM3,980 a month and RM47,760 a year. Again, this estimate is for a beginner, and an expert affiliate marketer can earn 10X the same, i.e., RM477,600 a year.
VPS Malaysia Affiliate Program is Perfect for you If:
Talking about the best affiliate program in Malaysia, the platform outshines its competitors by providing the highest payouts in the industry. Now the main question arises, who can participate in this program. Well, the answer is pretty simple; anyone who has traffic interested in buying web hosting and private servers can apply.
So, owing to the win/win condition, affiliate enthusiasts love to partner with VPS Malaysia. It's a program perfect for:
– Bloggers or publishers who have an audience more interested in eCommerce websites and online businesses.
– Admins of Facebook pages, social media platforms, or Forums that directly impact their audience.
– Every person who can convert cold leads into potential buyers with their Email sequencing.
– Anyone who owns a web hosting talk show, YouTube channel or niche related podcast.
– Freelance influencers or any person or platform with an interested audience are also a perfect fit for the program. 
Payout time, Payment Gateways, Security and Ease of Usage.
The fastest payout time and sky-high recurring commission make it the best affiliate program in Malaysia. Tracking your affiliate earning and monthly performance reports is a piece of cake while working with VPS Malaysia.
Once you join the program, you get your unique affiliate link and instant access to a user-friendly dashboard. The dashboard has a complete audit of the past 90 days. Besides, you also get monthly Emails from the VPS Malaysia affiliate program that highlights your Analytics.
Your commissions are processed for 30 days, after which they are deposited in the prospective account. The 30 days processing prevents fraud orders as VPS Malaysia gives a 30 days guarantee to its users. Finally, the funds are immediately transferred within the 3 days of the withdrawal request.
As the best affiliate program in Malaysia, keeping your data and earnings safe is the Company's priority, and they excel at it. Last but most important, you are given the freedom of choice regarding funds withdrawal. You can choose between PayPal, Your Malaysian bank account, or any other form of credit balance.
VPS Malaysia Affiliate Dashboard
Well, audit readability is an important point to tell whether a system is user-friendly or not. So, VPS Malaysia offers one-click modules to its partners, which is another plus point. The Dashboard keeps track of your stats in real-time and displays up-to-the-minute updates.
In addition, the user gets instant access to the analytics featuring the Daily Clicks, Signups, and Conversion percentage in an easy-to-understand format. Finally, at the bottom of the Dashboard, you get a complete audit of your referrals, i.e., Sign-up date, product/plan purchased, amount, respective commission, and the current status.
Have a look at the VPS Malaysia Affiliate Dashboard here: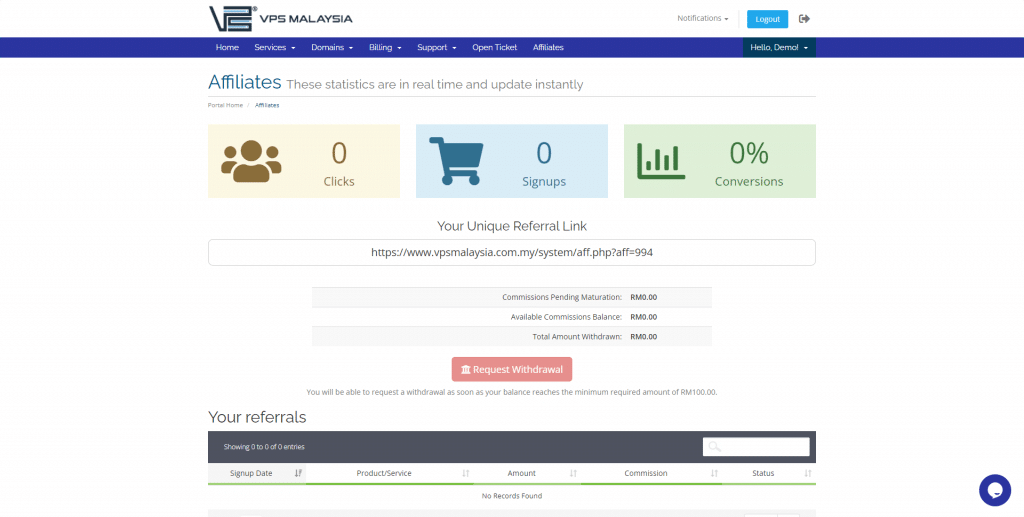 How to Join VPS Malaysia Affiliate Program?
Joining VPS Malaysia is the simplest; it can be 1,2,3, and you are a premier partner to the program. Just register for the program, get your link and – BOOM- a whole new affiliate experience is waiting for you.