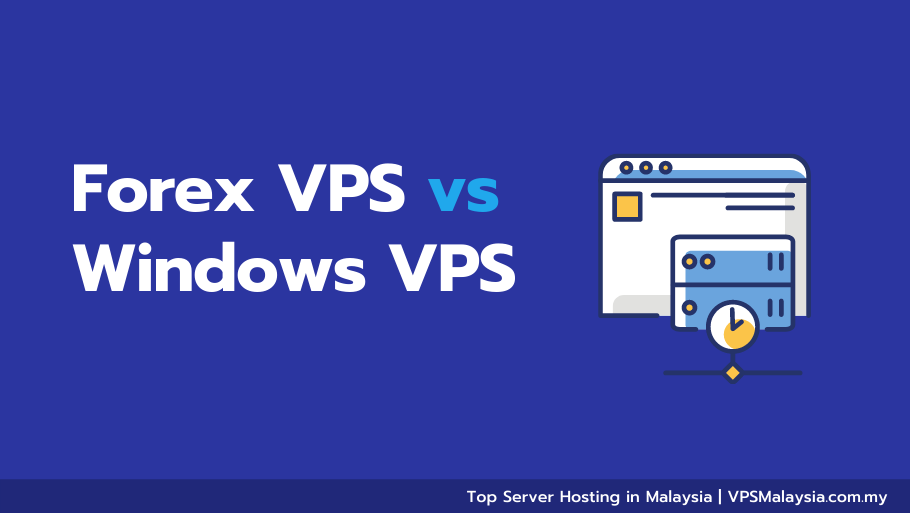 ---
Introduction
VPS hosting has become a popular choice because it is generally lower in cost than dedicated hosting and it also provides better reliability, security, and performance than shared hosting.
Users get administrator access to the server, giving them more control over their Server and the freedom to install applications and make certain changes without having to go through the hosting provider like the shared hosting plan.
In this article, we'll be looking at two different types of Virtual Private Servers; Windows VPS and Forex VPS.
We'll concisely explain what they are used for, their features, and their differences.
At the end of the article, you should know which of these two VPS to pick depending on your use case.
What is Forex VPS?
Forex VPS as the name implies is a server created and optimized for the sole purpose of running Forex trading-related software.
Trading software like MetaTrader (MT4/MT5) can be installed on Forex virtual private servers to help traders automate their training and make sure theirs no hardware-related performance issues.
Forex practically prevents issues like latency and slippage from occurring during trades and makes the entire experience smooth.
Forex VPS is also used in cases where a trader wants to involve expert advisors (EA) or professionals in managing their trades.
In simpler terms, it's a type of VPS that is solely used by forex traders to trade efficiently and effectively.
Before the invention of the forex VPS, the only viable way to make the most of automation in trading was to host your EA on your local machine which in many cases was not reliable and had limitations.
In the 21st century today, a lot of things are evolving; automation and efficiency are now the two most important aspects of modern trading.
A successful trader needs to think about how to invent a trading strategy that involves both automation and efficiency and as such forex VPS becomes a viable solution.
What is Windows VPS?
Windows VPS as the name implies is a server configured and dedicated to running windows related applications ensuring high performance.
You can think of it as running an instance of the Windows Operating System virtually on a server, this unlocks a whole lot of features that would otherwise not work efficiently on a local machine.
For example, you can run and automate all sorts of window software, host websites with Plesk, create APIs, and much more.
Windows VPS also offers flexible options for users to administrate and manage their VPS via VPS Control Panel to manage the server, for examples Reboot, Boot Up, Reset password, System health check, Reset Password, or Re-install Operating System.
This is very useful for detail-oriented IT specialists who want to arrange website resources to meet very specific requirements.
What's the Difference between Forex VPS and Windows VPS?
Forex VPS is a specialized server created for the sole purpose of running forex trading-related software like MetaTrader. Windows VPS on the other hand is a server configured for the sole purpose of running Windows OS-related software.
Both Forex and Windows VPS can be used for trading, the major difference lies in the performance.
Since Forex virtual private servers are configured and dedicated for running trading software, they tend to perform significantly better than Windows VPS for trading purposes.
Windows VPS would be a better option when running non-forex or trading-related tasks.
FAQ
Why do traders use VPS?
There are several reasons traders use virtual private servers (VPS) for their day trading. A VPS allows you to have a remote desktop connection to your computer, which is important for trading because you need to be able to see your charts and trade quickly.
A VPS also gives you the ability to use multiple monitors, which is very helpful when you are trading.
With a VPS, you can have all the charts and tools that you need open on different monitors, so you can trade more effectively and make better decisions.
A VPS also secures faster trade execution speed and stays connected to the market 24/7 without any interruptions.
Which VPS is best for Forex Trading?
There are different kinds of VPS packages out there, but not all of them are suitable for forex trading. In general, a good VPS provider for forex traders needs to offer:
– A stable and fast connection
– Plenty of bandwidth and disk space
– Scalability so that you can increase or decrease resources as needed
– 24/7 customer support
In addition, some providers offer specific features that can be helpful for forex traders, such as the ability to install multiple trading software on a single VPS.
One of the most important factors is the location of the server. The closer the server is to the exchanges, the faster the trade executions will be.
Another important consideration is latency. The lower the latency, the faster the trades will be executed. Some VPS providers offer a latency of less than 1 millisecond.
The best VPS for trading forex is normally marketed as Forex VPS which has dedicated configuration and features for just trading.
Conclusion
There are a lot of different options when it comes to choosing a VPS for your forex trading.
In this article, we have compared and contrasted Forex VPS and Windows VPS to help you decide which would work best for your needs.
We hope this information has been helpful! If you have any questions or comments, please leave them in the comment section below.